<![if !vml]>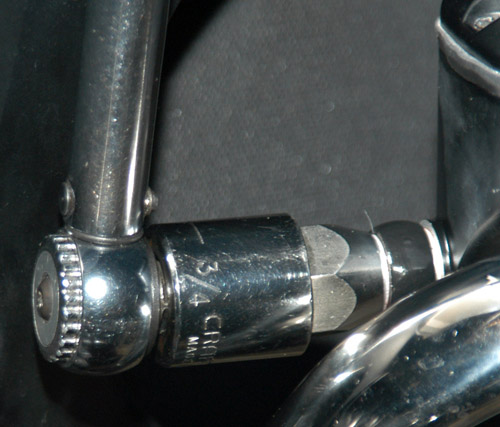 <![endif]>
When I was contacted by Mark Lipski of Traction Control Braking about trying their brake banjo bolt replacement that they said would help stop my brakes from locking up I said, "Yeah, sure! How is a bolt going to do that?"
Mark explained the bolt is separated into two chambers by a rubber diaphragm. The top one is filled and sealed with air and the bottom chamber has an opening that allows brake fluid to fill it, so when the brakes are applied, there is a sort of shock absorber action of the pads on the rotor. That made sense to me but I still had some doubts, so I agreed to try one out. If I decided I didn't like it, it would take only a few minutes to go back to my old system.
I ordered the one for a Harley FLHTI but they are available for most makes and models of motorcycles and they even have units for ATVs, scooters and snowmobiles.
When the unit arrived, I noticed that it did not have any brake washers with it. I had some in the parts bin, so that was not a problem. I mentioned it to Mark when he called to see if I had received the unit. He said they would start adding them to the kit. Cool.
<![if !vml]>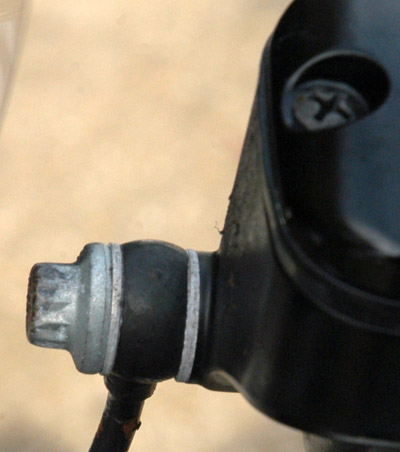 <![endif]>
Now to put this baby on.
<![if !vml]>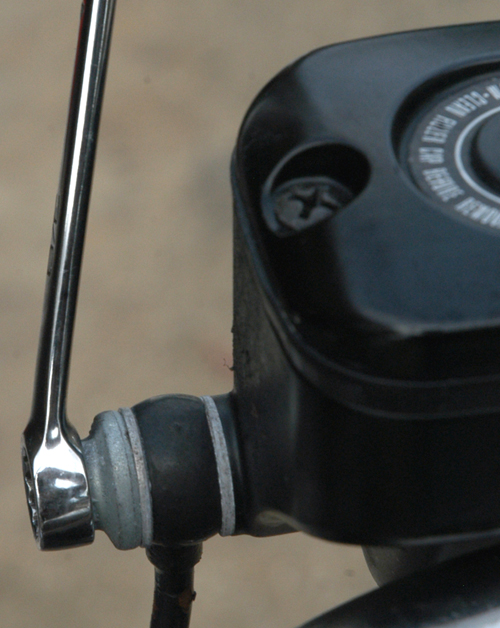 <![endif]>
Using a 3/8-in. 12-point box end wrench, I removed the stock banjo bolt. I placed a shop towel under the master cylinder just in case any fluid leaked. It didn't.
<![if !vml]>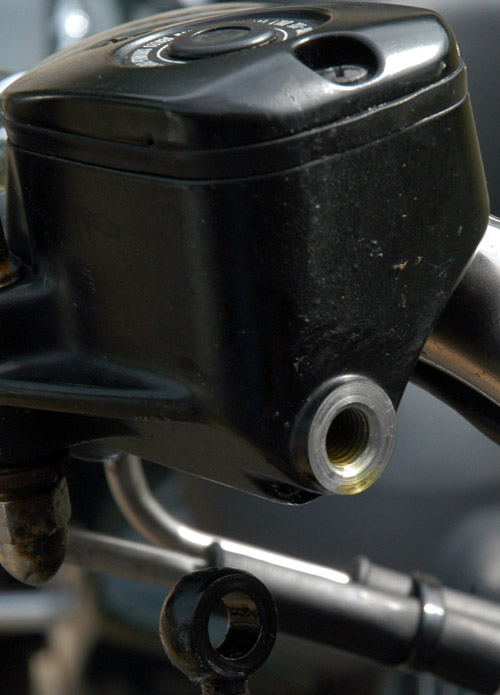 <![endif]>
I installed a new crush washer on the bolt and slid it through the banjo, added another between the banjo and master cylinder and proceeded to thread the unit in by hand to make sure it was not cross-threaded. I then used a 3/8-in. drive ¾-in. shallow socket because of clearance. I am a firm believer in torque wrenches and I used one set at 230 in.-lb (factory recommends 204-264 in.-lb) to tighten the bolt.
<![if !vml]>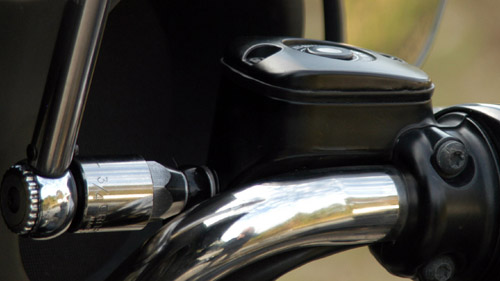 <![endif]>
The job was easy and went very quickly. I decided to pump the brake lever very quickly at about half throw to see if the system would bleed back through the master cylinder. I did this a few times and I had a good brake. Note that if you try this method, you need to be careful that you get all the air out of the system. If after sitting, the lever comes in and then pumps up, you still have air in the system and may need to bleed at the caliper. You must make sure there is no air in the system.
I checked the master cylinder for fluid level and was satisfied.
I went for a ride to test the brake. I noticed the improved stopping immediately. I increased the speed and continued to apply more brake, stopping the motorcycle in shorter distances and not locking the wheel.
The following day, I had an unexpected opportunity to really try out my brakes when a car pulled out in front of me. They worked great!
<![if !vml]>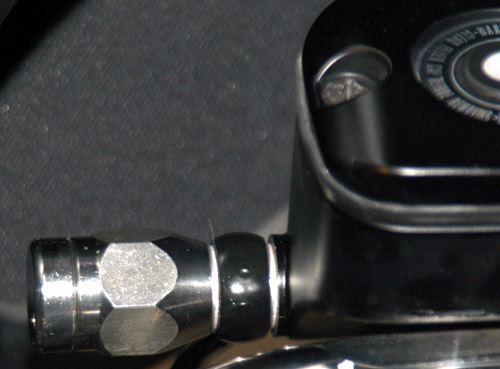 <![endif]>
No, I am not going to take it off. I LIKE IT!
I put one on my friend's Harley Road King and he is impressed with it, too. In the case of the Road King with a windshield, the clearance was a little close. We chose to lightly sand the edge of the windshield, instead of adjusting the handlebars to gain clearance. Minor adjustments may be necessary to some models with windshields.
To find out more about the TCB Device or to order one, go to their website http://www.tcbbrakesystems.com/. You can also phone them at 886-682-2822