REMEMBER PAPPY
25TH ANNUAL PAPPY RUN
This article is from Biker Number 192 April 01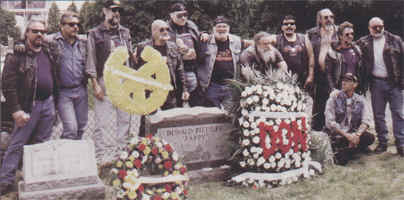 Pappy's Run is held on Memorial Day for a few reasons. One is that he was retired Navy and a veteran of the submarine service. The other is that he was also a veteran of another war. That is the one that he and other freedom fighters fought with our government to get motorcycle rights. And yes, it was a war. There was a lot that went on that many of you have not heard about and some things you might have a hard time believing, but it was a war. I know, I was there.
Don "Pappy" Pittsley worked for Ralph Strong's Motorcycle shop after he retired from the Navy He became the president of the Connecticut Motorcycle Rights Association, was a member of the Huns Motorcycle Club, and was many things to many people.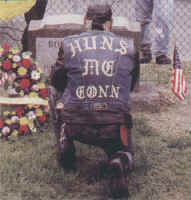 There is no mandatory helmet law for those over 21 in the state of Connecticut due to his efforts and the efforts of those who've followed him. They've refused to let the bureaucrats re-instate the law.
Back in the '70s the federal government tried to blackmail the states into passing numerous laws that it wanted by threatening to withhold highway funds if they did not comply. One of those laws was the mandatory helmet law.
Pappy's job was to work through the legislature and mine was to put on helmet protests throughout the east, especially in Connecticut We were a good team. Pappy's friend Rufus Rose submitted a helmet repeal bill to the Connecticut legislature and Senator Stu McKinney was instrumental in bringing our complaint of blackmail to the House Transportation Committee in Washington. When they ruled in our favor we got the Connecticut House and Senate to pass the bill, which Governor Ella Grosso then signed into law.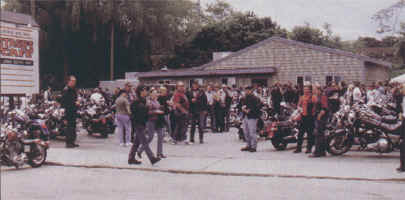 While this was all in the works, Pappy died of a heart attack while arguing with a cop over the helmet law and things the cops were doing to protesters. He never got to see the law repealed.
Rights Association. I explained to the government and the legislature that the civil disobedience and helmet law protests would continue and increase in size and frequency if the law was not repealed. Myself, and others, were not going to let all the things that Pappy stood for go down the drain.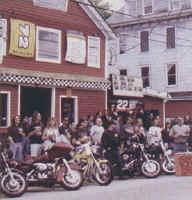 On May 18, 1975, the first run was held in his memory and has continued through the years. At the most recent one, more than 5,000 bikers showed up at Waterford Cinemas parking lot to celebrate Pappy's Run. The run was increased to 25 miles and went through many of the local towns like Groton, New London, Waterford, Montville and finally ending at the cemetery in Uncasville. Along the route people of all ages cheered, waved flags and voiced their approval.
Members of the Huns Motorcycle Club came out of retirement, put their colors on and led the procession. They were also given the first opportunity to pay their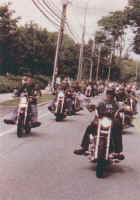 respects to their brother. Many of them going gray, balding, and putting on a few pounds, spoke to the crowd and gave a dedication. The rest of the riders then paid their respects. It should be noted that the Hum disbanded 20 years ago but get together for this run and some other functions and do wear their color;.
After the ceremony at the gravesite, the riders go to local businesses and party We went to Stash's in New London and had a large time. it is a place to relax and have a few cold ones, some good food, and get together with old friends and brothers, as well as meet some new friends.
Special thanks should go to Bill Shallcross for all the hard work that he does to make this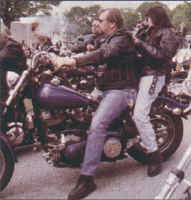 run a success. He starts at least six months in advance and takes care of every aspect of it.
I am very happy that I got to make this run and had the opportunity to visit my friend and brother, also to see my other brothers and friends.
"Long Live Pappy." He will live in my mind forever. He can in yours, too, if you continue to honor him with this yearly run.
If you ride a motorcycle and you love your freedom, honor those that gave it to you. Do not let what these people went through be for nothing. Continue to fight unjust laws in every way that you can.
Ride safe and free.
—Rogue