Harley started a revolution in 1936 with the OHV Knucklehead that is still going strong today. Arguably the best looking motor ever to come out of Milwaukee, it still stops the informed dead in their tracks on the street or at the shows.

Now, with technical innovations, advances in materials, and super-accurate machine tolerances, big inch, reliable Knuckle-style engines are a reality at Accurate Engineering. We're not talking trailer queens here, these babies run and run strong!

Knucklehead engines are available as Special Order Only.

Limited Cubic Inc sizes, please inquire.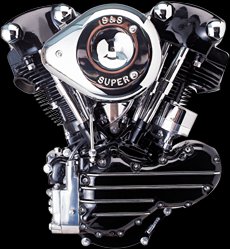 PRICING AS OF OCTOBER 2004
SUBJECT TO CHANGE WITHOUT NOTICE
CUBIC INCHES
103"
106"
PRICE
KNUCKLEHEAD
NATURAL FINISH
$11,500.00
GLOSS BLACK PAINT
$13,000.00
POLISHED

$13,000.00

Remember! Accurate Engineering Signature Series Engine packages always include carb, ignition, sparkplugs, sparkplug wires, correct coil and 32 amp charging system with regulator/rectifier
**CURRENT PRICE: SUBJECT TO CHANGE AS COMPONENTS PRICES CONSTANTLY FLUCTUATE