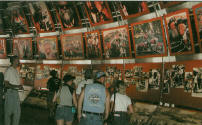 OPEN ROAD TOUR OPENS
Every party needs to start somewhere arid the Harley-Davidson 100th Anniversary Road Tour chose Atlanta, Georgia. The event was held at the famous Atlanta Motor Speedway starting with the 19th Annual HOG. Rally on July 19th and to the general public July 20-21. It was the first of 10 stops that is being billed as the world's largest rock 'n' rollin' celebration of bikes, bands and Harley history
The Road Tour, with stops in Atlanta, Baltimore, Los Angeles, Toronto, Dallas, Mexico City, Sydney, Tokyo, Barcelona, and Hamburg, all leads up to Harley's 100th Anniversary to be held in Milwaukee on August 31, 2003.
H-D and its people know how to put on an event and I, for one, was very impressed. Every detail from signing-in to the content and scheduling of entertainment was covered and seemed to go off very well. It was important that the first event be a success and open the doors to the following ones—it was.
The gates opened at 10:00 am. and the event hours were from 11:00a.m. to 11:00p.m. The normal restrictions on coolers, chairs, drugs, weapons, etc. applied and motorcycles were searched and patrons went through metal detectors. A little more police protection than I personally thought necessary but, hey, I'm sure they wanted to get in and see the show too. I personally did not see any problems during the time I was there.
Entertainment was held throughout the day. On the big Harley-Davidson stage, at the south end of the track, they started about 2:00 p.m. and continued until closing. The House of Blues stage was at the west end and they played from 11:00 am. until 8:30. On the racetrack, events went from noon until around 7:30 p.m. Stars like Travis Tritt, Tim McGraw Ted Nugent, and the groups Bad Company and Journey played the big stage while Blues Traveler, Razorbacks, Warren Brothers, and others did the House of Blues stage.
At trackside, an endless line of Harleys rode by, each sporting their chapter flag. Harley says they have 1,300 chapters. I don't think they were all represented, but there sure was a lot of 'em. The Marion County Sheriffs Drill Squad and the Seattle Cossacks Stunt and Drill Team put on demonstrations. Bubba Blackwell was scheduled to perform but due to an injury he turned the stunt show over to Craig Jones from England. The Drag Bike Exhibition included Ray Price who was celebrating his 65th birthday, Joe Timmons, AHDRA lop Fuel rider, and Travis Lummus of the Gene Lummus Harley-Davidson Racing Team.
For exhibits there were three 20,000 square foot shows entitled, "Journey", a special exhibit of the 100 year history of Harley; "Machine", the motor­cycle and the engine; "Culture", Harley-Davidson in the world, art, film, fashion and rock and roll.
Other attractions included HOG. Roadhouse (HOG members only), Miller Roadside Café, Ford Drive-In Theater, Young Harley (for kids with a ride-on toy Harley), and of course Demo Rides on the new 2003 Harleys and Buells.
Atlanta was hot but there were plenty of places to cool off. The exhibits were air-conditioned, there were places to get out of the sun, there were water coolers, and there were even tents with water spraying that you could walk through, get wet, and cool off. The only complaints I heard were about the beer prices, $5.00. You would think, since Miller was one of the sponsors, it could have been a little cheaper. Shirts, hats, patches, etc. were about what you pay at the Harley shop. Ticket prices at $55.00 per day seemed okay. H.O.G members who pre-registered got in for $50.00 for the weekend, plus they re­ceived free I-shirts, events pins, etc., so they got a real deal. If you get a chance to attend one of the other stops, I highly recommend that you do so. I'm planning on doing Milwaukee in 2003, and hope to see you there.
—Rogue