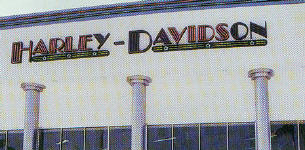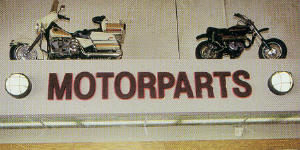 If you're riding down Route 441 in Miami, the new Harley-Davidson dealer­ship jumps out at you. It is two stories tall with over 33,000-square-feet, not counting the ample parking lot. Its color theme and neon lighting matches the high tempo beat of the upbeat area and definitely ranks as one of the new Harley superstores. Gracing the 30-foot ceilings of the 80,000-cubic-feet of the "Old Milwaukee" decor show­room are vintage pictures enlarged to fit the 16x5 foot banners.
Motorcycles to the left, motor clothes to the right...a large display of Harley's new line of Biker Blues, boots, jeans, leathers, collectibles, and a fully-stocked parts department. In the center of the room is a wild oversized display of tires and parts. Ambling toward the rear of the building, you pass the stairs to the second story offices, a large employee lunchroom, and a 3,225-square-foot meeting room for the H.O.G. Chapter. In the first floor service area, custom paint and other goodies cover the walls and fill the display cases. The shop has 12 certified mechanics, a machine shop and clean room, a motorcycle wash area, and a Dynojet machine. If this sounds like a dream place—it is. It took 30 years to get there and Phil Peterson and his staff well deserve it.
Phil started in the Harley-Davidson busi­ness in the Key West area in 1954 then moved to Miami in 1965. The business kept growing, and at one time, Phil had stores in Miami, Key West, and Hallandale, Florida. Two of his sons are operating stores in Dade County, with his son Drew in charge of the South branch, and Dirk and long-time friend and employee, "Ace" Armstrong, at the North store.
Phil's latest move was on a grand scale. Having bought a piece of land 21 acres in size, he instructed the architect to build the biggest building he could design on the property, and still have all the required parking and landscaping that was needed.
On February 24 and 25, Harley-Davidson of Miami had their first annual
Open House with over 7,000 people showing up for the two days of food and fun. The H.O.G. Chapter staged a fashion show, there was a great band, burnouts by the shop-sponsored drag bike, vendors, motorcycle displays, Dyno-testing, Buell demo rides, and of course, some great food by the Wings of Gold MIC.
After closing Saturday evening, there was a birthday party for Phil with a dinner for friends, employees, and the H.O.G. group. By the way, the birthday cake looked exactly like the new building and tasted great. If you ever ride down to the Sunshine State, make sure you drop in and say hello to Phil and the crew...maybe he'll have some of that cake still in the freezer.
—Rogue
This article is from Eagle's Eye May 1996 Number 53