Motorcycle firm's sales accelerate
American Quantum Cycles offers design choices, stronger engine
by Dikeita Eley of Florida Today Newspaper Sunday, July 2, 2000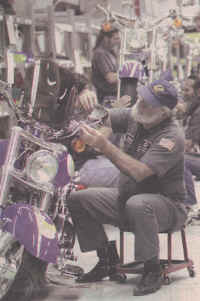 MELBOURNE — Electric sanders lie idle beside the motorcycle frames on worktables. A few feet away, huge orange shelves hold fenders in purples, blues, hot reds and burnt oranges. For now, the plant is quiet. But soon, these parts will join wheels, engines and handlebars to become dreams of freedom on the open road.
This is the 28,000-square-foot production plant for American Quantum Cycles, which designs, builds and sells high-performance cruisers, touring bikes —called baggers for their saddlebags — and cycle engines.
With Harley-Davidson the major motorcycle maker in the United States, the nation's few smaller motorcycle companies, including such players as Titan Motorcycles of America, Big Dog Motorcycles and Indian Motorcycles, are left to divide most of what remains of the market. Three-year-old American Quantum Cycles seems to be getting its share.
"In 1998, we were just developing. Any sales we made were accidental," Chief Operating Officer Gary Irving said.
"(Now) we have a pretty sizable backlog. Our main focus now is to build them fast enough."
The numbers back him up. Sales for the quarter ending in April were up 633 percent over the same quarter last year.
That means more than a wider range of choice for motorcycle buyers. It also means manufacturing jobs for 72 local employees and, a wider industrial base for Brevard County.
While Irving is quick to say the company doesn't directly compete with Harley-Davidson, it was unmet demand for Harleys that convinced founders Jeff Starke and Jim Cheal to open Quantum in 1997.
Cheal has moved on; Starke is vice president for research and development.
"We saw a mature, well-defined market with unfulfilled demand," Irving said. Chief Executive Officer Jeff Hagen was unavailable for comment.
Big challenge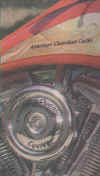 Whether American Quantum sees itself as competition for Harley, developing a reputation that approaches Harley's would be the biggest challenge for any new cycle company, said Bill Wood, managing editor of American Motorcyclist magazine.
"The good thing about this market is that it is pretty open to alternatives as long as (new companies) stick to the traditional American look offered by Harley Davidson," he said.
Quantum may or may not follow that formula, but its dealers will certainly be able to offer the look consumers want:
American Quantum lets buyers custom-design their motorcycles when ordering, using software called Cycle Design.
The software allows users to choose from a variety of fenders, seats, saddlebags, wheels, paint designs and colors and is connected to American Quantum headquarters through the Internet.
It's an effective sales tool, Irving said. "People get so excited about designing their own bikes."
Still, Irving sad, American Quantum focuses most on what it considers its edge: an engine with a patented 4-valve head that increases airflow, boosting power and mileage over the more common 2-valve.
Riding a rising wave of interest in motorcycles, sales for American Quantum have been strong. A 633 percent fourth quarter increase means the company sold more than $2 million worth of bikes in three months. In that same quarter, operating expenses dropped 38 percent, to $1.89 million and earnings (before interest, taxes and amortization) soared from a $2.76 million loss in the quarter to a gain of $116,929.

Quantum also recently increased its dealer network, announcing in April a four-state deal with Action Motorcycle Distribution Co. of Detroit.
The agreement, which allows Action exclusive rights in Michigan, Illinois, Indiana and Ohio to sell a minimum of 2,350 bikes in five years, could be worth about $43 million in sales, the company said.
The touring cycle, now the company's most popular model, retails at $24,950, while the cruiser sells for $20,950.
To further improve product design, American Quantum in June hired Keith Ruxton as chief technology officer, and David Stach as engineering manager.
A new engine design and a new model will be announced in August, Irving said.
Buying dreams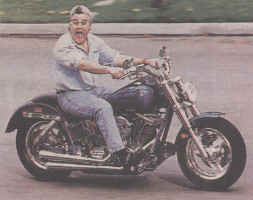 'TONIGHT SHOW' host Jay Leno owns an American Quantum motorcycle, shown here. Demand for the motorbike is so strong that American Quantum's main focus "is to build them fast enough," Chief Operating Officer Gary Irving said.
Several demographic factors play into the rising popularity of motorcycles. Millions of the more than 72 million baby boomers ages 36 to 54 had motorcycles when they were younger or wish they had and now have the money to indulge that interest.
Wood calls that customer the "re-entry buyer": "An affluent middle-aged man who rode a motorcycle when he was a teen, and got out of it. He settled down, raised a family, that sort of thing, and is now in a position to come back to motorcycles as recreation."
The Department of Highway Safety and Motor Vehicles reports that in Florida there were 215,882 motorcycles registered in 1998 and 229,289 in 1999, an increase of more than 6 percent in one year.
Brevard registrations increased from 9,082 in 1998 to 9,631 in 1999, showing the nearly the same 6 percent-plus jump. Statewide, registration is estimated to reach 238,552 by 2001.
According to Wood, most buyers are male, though recent trends have included the growing number of female riders, who now make up about 9 percent of motorcyclists nationwide.

To accommodate those buyers, American Quantum makes handlebar and foot pedal adjust and doing dishes," Cooney said. More to the point, "I love the 4-head engine," she said. "I think it'll revolutionize motorcycles."
To help develop a reputation for quality, American Quantum requires that each cycle undergo a 50-mile test drive and that the preparation and repair department keep records to catch problems and correct them, preparation and repair supervisor Rogue Herlihy said.
"It's better to send 'em out right than to have an unsatisfied customer," said Herlihy, who has 47 years in the industry. "We're doing a good job with that."