<![if !vml]>
<![endif]>
David Covington's 103-inch Pan engine built by Berry Wardlow.
The motorcycle show circuit has always been very competitive and it continues to be hot to the touch. The top builders in the country continue to show their new creations and young builders are building names for themselves. But we're not rowing that boat currently. We're hear to discuss engines, hot, wild radical engines built by Berry Wardlow from Accurate Engineering.
More and more show builders are using engines by Berry, in Dothan, Alabama. In many cases these engines added reliability and the wild custom edge to win. Each hand-crafted engines are as exotic as the motorcycles, they run hard and are dependable. Big Inch Knuckleheads, Panheads and Shovelheads on the same tough, strong bottom ends, No Problem. Blowers, Turbos, Multiple Carburetors you name it they do it.
They build stock to hot street, big bore or stroker engines in numerous styles, sizes and finishes at very reasonable prices.
Berry is not a new kid on the block. I met him in 1988, when I was returning from Phil Peterson's Miami to Key West Poker Run and stopped at the Overseas Lounge to attend a benefit for a lady rider friend, named STAR, who was killed riding back from Daytona earlier in the year.
<![if !vml]>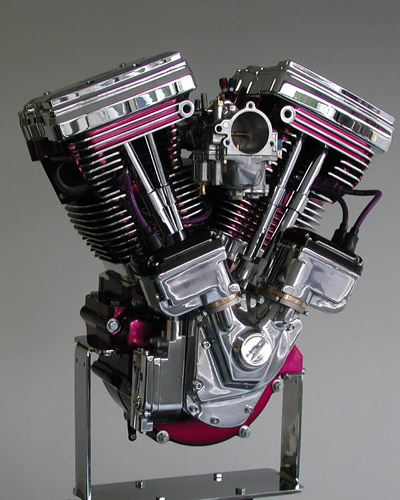 <![endif]>
I was riding my Turbocharged Shovelhead and of course we got into a conversation about it. He moved to West Melbourne Florida in 1989 and went to work at Harley Motor Works where I was employed. We rode and partied together along with his dog WENDY who rode with him everywhere. He went to Sturgis for the 50th anniversary, then to Flagstaff and in 1991 Alaska all the time working in motorcycle shops.
In 1996 he ended up in Dothan, Alabama and opened Accurate Engineering. He had some contacts and a good reputation, and the business grew. He got a little ink in some publications and eventually supplied all the Panhead engines for Panzer, an aftermarket motorcycle manufacturer.
We have stayed friends through the years and also worked on some special engine projects together so I know how good he really is. His attention to quality and detail is matched by none. He likes making combinations of parts, not commonly used, come together into one of a kind engines. They run and look good. He considers all of his engines his babies and treats 'em like jewels.
Top builders in the motorcycle industry know of Berry, and many of us have used his hot shoe engines in our personal rides.
<![if !vml]>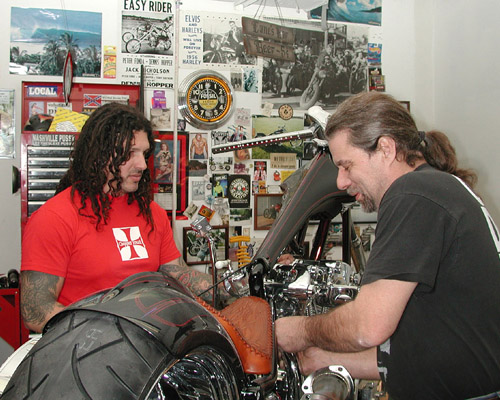 <![endif]>
Barry and Billy Lane.
One of the builders who regularly uses Accurate engines is Billy Lane of Choppers Inc. here in Melbourne, Florida. I was at Billy's shop shooting some photos for him while he worked on the Camel Bike. It is the one that has the hubless rear wheel.
<![if !vml]>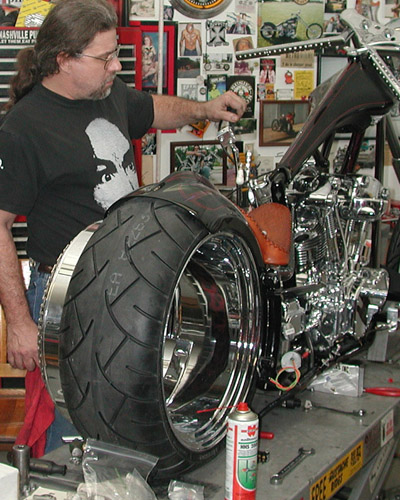 <![endif]>
Barry tuning the Choppers Inc. hubless creation.
I just returned to Florida from Berry's shop and Billy and I discussed the Camel project. Billy previously owned engines by Berry, and he mentioned that one of the Accurate engines would guarantee the Camel Bike to be a winner. I dialed up Berry quick, explained to him what was going on and put Billy on the phone. They worked out the details and deadlines.
Berry, and some of his crew, came to Melbourne. They crashed at my place and on the weekend, and we rode over to Chopper Inc. to install the engine and got it running. All the while the Discovery Channel filmed the process.
<![if !vml]>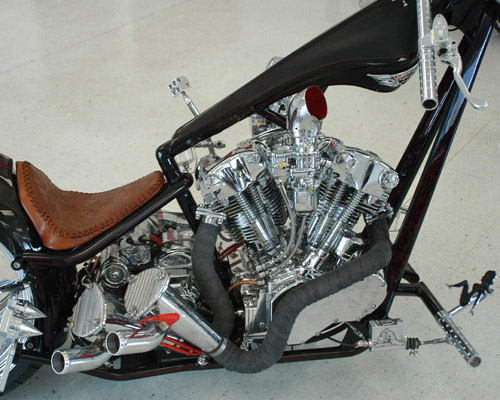 <![endif]>
The motorcycle was such a success and the engine so popular, that Billy continued to use Accurate engines in various other projects. As a matter of fact when Bill and Indian Larry had their competition the both sported Accurate Engines in their bikes.
Since then numerous other builders search out Berry's hot reliable engines for projects. Look for the Accurate gang at various up-coming shows around the country.
YEAH, I AM PREJUDICE
I like Berry, but I also like his work so much I have his engines in all my bikes, except the 2004 Harley Electric Glide. We've both been to busy to fuck with it.
Yes, you can have an Accurate Engineering Engine too. He's good people and will build engines for anyone, even the Famous Builders and Celebrities. Contact Accurate Engineering at 334-702-1993 or visit their web site at http://www.accurate-engineering.com. I do believe that he even has a couple of complete motorcycles with his engines in them For Sale.
--ROGUE
<![if !vml]>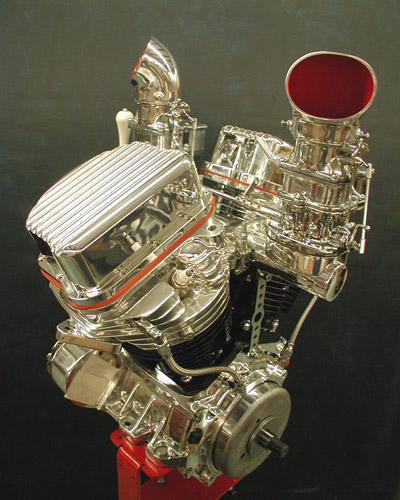 <![endif]>
Accurate Engine Specs
Here's an example of an Accurate built engine, the components and details:
David Covington's engine. 103 cu. in Panhead, 4.5-inch stroke, 3-13/16-inch Accurate Engineering cylinders with Accurate Engineering, step-studs and 12-point hardware. STD full polished stock style '63-'65 Panheads with 3-bolt exhaust flanges. Accurate Engineering stainless steel overhead oil line. Accurate Engineering braided oil return lines.
<![if !vml]>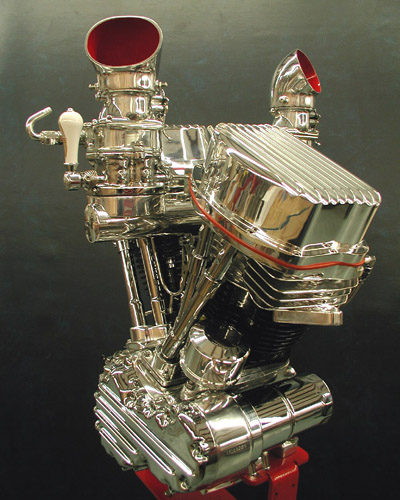 <![endif]>
Kibblewhite valves, Rowe guides, Kibblewhite springs, K-Line seals and Accurate Engineering rocker arm bearings. Billet finned Pan covers with Accurate Engineering "Leak Proof" gaskets. Ross pistons, Hastings rings, Teflon buttons. A .540 lift cam. Accurate Engineering intake manifold, linkage, etc. Dual 1937 Stromberg '97 carbs reworked by Accurate Engineering and topped off with "Bonneville" style velocity stacks. Porcelain toilet handle for carb from the Waldorf-Astoria Hotel.
Pinstripping by Henry Haynes. STD polished crankcases, S&S flywheels, shafts and rods. S&S oil pump, Accurate Engineering oil filter adaptor. Jim's lifter and Accurate Engineering pushrods. Mallory ignition system, Dyna coil, Autolite spark plugs and Taylor wires. 32 amp Cycle Electrics charging system.
All welding, machining, assembly and testing performed in-house by Accurate Engineering. Plating by Chromemasters. Polishing by Steve's Polishing and Accurate Engineering. Paint work by Accurate Engineering.
<![if !vml]>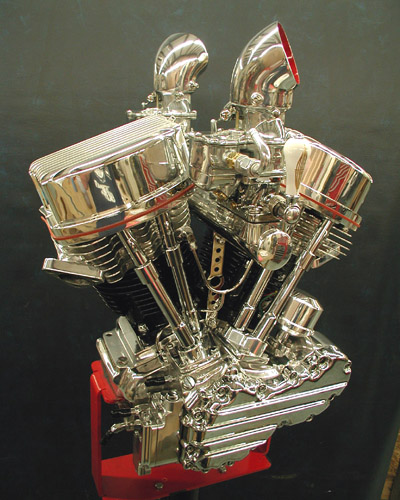 <![endif]>